Aurora
Themenstarter
4. April 2018 10:57
Die hundertprozentige Tochtergesellschaft von Aurora, Aurora Cannabis Enterprises Inc., ist ein lizensierter Hersteller von medizinischem Cannabis gemäß den Bestimmungen von Health Canada für den Zugang zu Cannabis für medizinische Zwecke ("ACMPR"). Das Unternehmen betreibt eine 5500 Quadratmeter große Produktionsstätte in Mountain View County, Alberta, bekannt als "Aurora Mountain", eine 40.000 Quadratmeter große Produktionsstätte namens "Aurora Vie" in Pointe-Claire, Quebec, und eine 800.000 Quadratmeter große Produktionsstätte, bekannt als "Aurora Sky", am Edmonton International Airport. Aurora baut auch eine vierte Anlage von 48.000 Quadratfuß in Lachute, Quebec, und wird in Kürze mit dem Bau einer 1.000.000 Quadratmeter großen Produktionsstätte in Odense, Dänemark, beginnen, bekannt als "Aurora Nordic", über ein Joint Venture mit Alfred Pedersen & Søn ApS.
Aurora besitzt auch die in Berlin ansässige Pedanios GmbH, den führenden Importeur, Exporteur und Vertreiber von medizinischem Cannabis in der Europäischen Union. Das Unternehmen bietet eine weitere Differenzierung durch seine hundertprozentigen Tochtergesellschaften BC Northern Lights Ltd. und Urban Cultivator Inc., Branchenführer, bei der Herstellung und dem Verkauf von proprietären Systemen für den sicheren, effizienten und ertragreichen Indoor-Anbau von Cannabis, und in Modernste Indoor-Gartengeräte für den Anbau von Bio-Microgreens, Gemüse und Kräutern in Heim- und Profiküchen.
Darüber hinaus hält das Unternehmen rund 17,23% der Anteile an dem führenden Extraktionstechnologieunternehmen Radient Technologies Inc. und hat eine strategische Beteiligung an Hempco Food and Fiber Inc. mit Optionen zur Erhöhung der Eigentumsanteile auf über 50%. Aurora ist auch der Eckpfeiler bei zwei anderen lizenzierten Herstellern, mit einem 22,9% -Anteil an Cann Group Limited, der ersten australischen Firma, die eine Lizenz für Forschung und Anbau von medizinischem Cannabis besitzt, und einem Anteil von 17,62% am kanadischen Produzenten The Green Organic Dutchman Ltd. mit Optionen zur Erhöhung der Mehrheitsbeteiligung.
WKN: A12GS7 ISIN: CA05156X1087  Kürzel: ACB in 
 handelbar: JA Börse: TSX Venture  Land 
   Gründung: 2014 Angestellte: 171 Vollzogene Namenswechsel: 
Themenstarter
15. Januar 2018 18:02
Das ist mal ne gute Idee!
Bin mir nicht sicher ob das so kommt wie Aurora das möchte.. CMED und HIP sind gerade gehalten.
Shareholders of Newstrike Say 'Yes' to CanniMed Acquisition
The positive vote signals to CanniMed as Newstrike is ready to merge–if its shareholders decide in favor next week
« US Attorneys General Seek…Exclusive: High Hampton C… »
Bryan Mc Govern • January 17, 2018
Add Comment
100
optimized-screen-shot-2018-01-17-at-3-38-28-pm
The shareholders of Newstrike Resources (TSXV:HIP) agreed on Wednesday (January 17) with the proposed takeover from CanniMed Therapeutics (TSX:CMED), a key win for the partnership seeking to flourish away from the Aurora Cannabis (TSX:ACB; OTCQB:ACBFF) aggressive takeover attempt of CanniMed.
According to the Globe and Mail, investors with 99.4 percent of the stock were in favor of the transaction. Through this deal, CanniMed hopes to make an imprint into the recreational market, set to open sometime this summer, thanks to Newstrike's brand Up Cannabis.
Newstrike gained notoriety last year after it scored a partnership with the Canadian rock band The Tragically Hip. The company has been on a path of elevating their brand, Up Cannabis. At the Lift Cannabis Expo in Vancouver, the brand had one of the largest booths on the show floor.
Market reaction to the Newstrike vote
On Wednesday the markets closed with different results for all three players involved in this case. Newstrike had a 16.42 percent decline in its share value and finished the day with a value of $1.12 per share. CanniMed, on the other hand, enjoyed a 10.57 percent increase in share price and closed the day at a price of 27.82 per share. Aurora had a 3.44 percent increase in its stock and was valued at $12.32 per share.
In the eyes of CanniMed, which is vigorously seeking to avoid the takeover from Aurora, this is a positive first result of the various shareholder voting sessions taking place. Shareholders of CanniMed will now decide the fate of the company on a vote next Tuesday (January. 23).
Both Aurora and CanniMed have campaigned to shareholders on the reasons why they should or shouldn't vote in favor of the acquisition of Newstrike Resources. Cam Battley Aurora's chief corporate officer told the Financial Post their offer for CanniMed "is contingent" of the Newstrike deal getting a negative vote from CanniMed's shareholders.
The vote from CanniMed requires a majority for the deal with Newstrike to go through. However, according to the Globe and Mail, there are investors with 36 percent interest of CanniMed who are "committed" to the Aurora takeover.
Investor Takeaway
The resolution, in this case, is coming soon where investors of CanniMed will determine the result with their vote. If the deal with Newstrike is shut down, it is unclear what the next steps will be for the Aurora takeover to take place as management from CanniMed has fought off the bid by all means available.
CanniMed's displeasure with the takeover bid from Aurora has grown so much, the company even sued it's competing for public LP for "multiple claims of wrongdoing." The company is seeking $725 million in damages through the unserved suit.
Wenn die Gerüchte stimmen dann könnte es heute ein Blutbad geben. Der grösste Deal des jungen Marktes (CMED).. aber der Preis, auch aus meiner Sicht übertrieben. Und HIP würde endlich übelst rot gehen.
Könnte aber ein positives Blutbad werten.
Also bin damals bei Aurora bei 1.8 rein mittlerweile aber das meiste verkauft. Jetzt bin ich aber schwer am überlegen nochmal nachzukaufen.
Wei viel produziert CMED und welche Patente bzw. Züchtungen haben die?
wie kann ich aus der eventuellen übernahme provieren? kann ich mit stops irgendwas richtig machen?
strategietipp wäre nett.
lg an alle
mach halt nen TVK. Dann kannst dir nichts vorwerfen wenns erstmal dipped... langfristig brennt da bei denen aber nichts an. wir haben gradmal den 24.Januar! Das muss man sich bitte immer vor Augen halten.
ACB sowie CMED anscheinend für den Handel mal gestoppt?
Profitieren könntest du mit put's die es nicht gibt 😉
Haha da versteh einer den Markt - ACB sogar etwas grün und HIP nicht mal sooo schlimm mit -20%
CMED beim Offerpreis von 43... wie war das nochmals vor ein paar Wochen, da wurde doch was über 20 geboten ;). Glückwunsch wer hier noch gehalten hat resp. eingestiegen ist!
Aurora Cannabis and CanniMed Therapeutics Agree to Terms on Friendly Transaction
liest sich so als ob die sich wohl einig werden.
Hm, danke Seppel! ... Ich überlege gerade, ob ich dazu kaufe, weil sie noch tief steht.
Allerdings ist sie ganz schön mit abgestürzt und die Märkte sind ja noch etwas zitterig....
Weiteres Abstürzen mit Dazugekauftem muss ich nicht haben....Hm...
Habt ihr schon gesehen? Aurora steigt .... To The Moon, wie die Kryptojäger sagen.
Da gab es gestern ne Handvoll die besser liefen.. Da fehlt noch einiges für den Mond ;), stehen ja immer noch fast 50% tiefer wie vom ATH. Generell nicht sehr optimistisch für Aurora was die Preisentwicklung angeht, der Cmed Deal war einfach schlecht.
Sollten denen auch 40% weniger zahlen so wie dies APH nun für Nuuvera tut 🙂
Aber nur 40% weniger Cash.
Themenstarter
14. Mai 2018 11:53
Wo Rauch ist ist nun mal eben doch immer auch Feuer!
Seit dem 03.05 diskutieren wir im Forum über Gerüchte, dass Aurora MedRelaf kaufen möchte. Erst hält man sich zurück und dementiert nahezu und nun das:
Aurora übernimmt für 3,2 Mrd. CAD die ausstehenden Anteile von MedReleaf 
Da der Übernahmepreis bei 29,44CAD gesetzt ist, also ca. 35% höher als der Mittelkurs der letzten 20 Tage, kann man davon ausgehen, dass MedReleaf heute in der Gegend von 29 CAD eröffnen wird.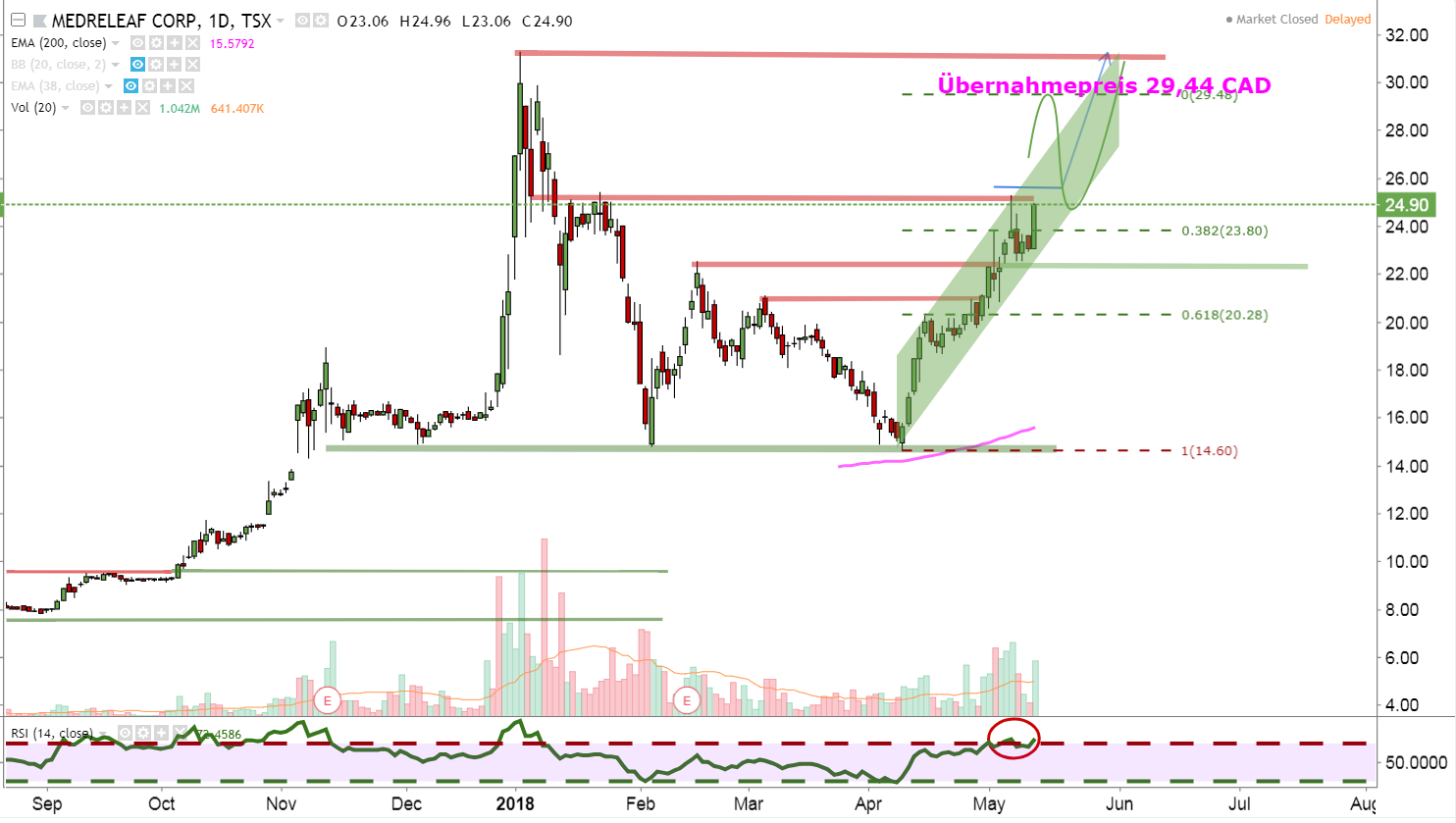 Im deutschen OTC-Handel wird MedReleaf bisher  12,43% höher gehandelt:
Highlights of the Transaction
The proposed Transaction brings together two of Canada's premier cannabis companies with fully-aligned strategic visions and production philosophies, as well as complementary assets, distribution networks, products, and capabilities. The combined company will meet what Aurora and MedReleaf management teams consider to be the critical success factors in the industry, creating a powerful platform for accelerated growth on a global scale:
Industry leading scale: the Transaction brings together two leading operators with a total funded capacity of over 570,000 kg per year of high-quality cannabis, through nine facilities in 

Canada

 and two in 

Denmark

.
Low production costs and industry leading yields: Aurora's automated greenhouses are expected to deliver industry-leading efficiency and low production costs, delivering sustainably robust margins. MedReleaf's high-yield cultivation is expected to further enhance productivity and reduce costs across the combined entity's facilities.
Extensive distribution channels in 

Canada

 and internationally: the two companies have established distribution agreements with 

Alberta's

 Alcanna (formerly Liquor Stores), 

Quebec's

 SAQ, Pharmasave and Shoppers Drug Mart in 

Canada

, among others. Additionally, the companies have a rapidly growing international footprint through a network of in-country sales and distribution capabilities and supply and licensing agreements on five continents, including countries such as 

Germany

, 

Italy

, 

Brazil

 and 

Australia

. Both companies are actively engaged in initiatives to further expand their international activities.
Proven execution and agility across the value chain: creating a combined company, fully integrated across the entire value chain. The combined entity will be enabled to move with more agility and speed to capitalize on diversified opportunities in both the domestic and international markets, and create new, higher-margin opportunities across the value chain.
Enhanced diversification: a more broadly diversified portfolio of award-winning high-quality flower and derivative products will enable the companies to establish strong brands across the various market segments.
Brand leadership: three established medical brands, Aurora, CanniMed and MedReleaf, coupled with a portfolio of consumer and wellness brands - San Rafael '71, 

Woodstock

, and AltaVie - all backed by detailed consumer and marketplace insights and advanced analytical frameworks.
Innovation and R&D excellence: the expanded scientific team will focus on developing a robust pipeline of marketable IP, accessing higher-margin segments and new revenue streams. Aurora's Medical Centre of Excellence, formed through the combination of the Aurora and CanniMed science and product development teams, together with MedReleaf's ongoing studies with recognized research institutes, are expected to continue to evolve product innovation and create additional momentum for brand equity development on a global scale.
Enhanced capital markets profile: the combined entity's expanded capital markets profile is expected to appeal to a broader shareholder audience, enhance trading liquidity and increase weighting in index tracking portfolios.
Aurora nun doch rot. Wenn WEED hier nicht so raushauen würde, wäre der Titel abgesoffen.. das LEAF auch nicht mitmacht, scheint daran zu liegen dass die Leute hier die Kohle rausnehmen und keine fallenden ACB Scheine wollen.
1 Milliarde Scheine - voll abartig!!!
warum steigt medreleaf nicht auf 29?
Nur mal am Rande erwähnt lohnt sich ein Blick auf die Firma Micron Waste Technologies. Börsenkürzel MWM in Kanada.
Warum bzw was macht Micron:
Und so einfach funktioniert das Verfahren, für das Micron Waste das Patent angemeldet hat: Der Biomüll kommt zusammen mit Wasser in einen Tank. Auf der obigen Abbildung sehen Sie das Modell der Serie A. In diesem Tank werden die Abfälle zerkleinert und unter Ausschluss von Sauerstoff von speziellen Mikroorganismen Schritt für Schritt innerhalb von 24 Stunden zu 95% zu Brauchwasser umgewandelt. Ein Teil des Brauchwassers kann für den Prozess wiederverwendet werden.
Cannabis-Branche begeistert von Micron Waste-Innovation
Für mich ist der besondere Knüller bei Micron Waste, dass Cam Battley im Beraterteam von Micron Waste sitzt!
Cam ist Chef von Aurora Cannabis, einem extrem schnell wachsendem Produzenten von medizinischem Cannabis (Sie sehen es auch am explosiven Kursverlauf der Aktie) mit riesigen Cannabis-Plantagen. Und er ist Vorstandsmitglied der Cannabis Canada Association, der kanadischen Branchenvereinigung, der sich die meisten lizenzierten Produzenten von medizinischem Cannabis - unter anderem auch der Marktführer Aphria -, angeschlossen haben.

Mitglieder der Cannabis Canada Association. Quelle: Cannabis Canada
Alles diese Produzenten haben dasselbe Problem: Wie entsorgen wir unseren Biomüll umweltschonend, kostengünstig und möglichst sogar so, dass wir mit der klimafreundlichen Müllentsorgung bei unseren Kunden werben können?
Die Zusammenarbeit zwischen Micron Waste und dem Branchenvertreter Cam Battley zeigt, dass Micron Waste den Fuß in der Türe hin zu einem riesigen Markt hat, der im Moment so schnell wie kein anderer wächst. Wenn Cam die Lösung von Micron Waste z.B. für sein Cannabis-Unternehmen Aurora einsetzt, werden alle anderen Produzenten nachziehen, um wettbewerbsfähig zu bleiben. Ein Mega-Geschäft für Micron
Achtung: Die Auszüge/Quelle stammen vom Hotstock Investor. Einfach mal Aktie auf die WL setzten und beobachten
Ich auch noch nicht. Wen zählst du denn zu den big 4 neben Canopy Growth ?
Folgende gelten als die Big4:
- Canopy
- Aurora
- Aphria
- Organigram
danke, dann habe ich mit Aphria und Canopy ja schon mal 2 😉
Organigram und Aurora habe ich jetzt auf der Watchlist. Danke für die ganzen Infos und Tipps 😉