Ist bald der nächste REIT neben IIPR handelbar?
Themenstarter
13. Januar 2019 22:38
Bald der nächste REIT neben IIPR handelbar?
Cannabis ist ein sehr kapitalintensives Geschäft und das jederzeit verfügbare Eigenkapital ist eine recht teure Finanzierungsquelle für die Finanzierung von Anbau, Verarbeitung und Einzelhandel. Aufgrund der Gesetzgebung des Bundes haben Cannabisunternehmen nach wie vor keinen Zugang zu Banken für traditionelle Hypothekendarlehen. Um zu vermeiden, dass zusätzliches Eigenkapital geschaffen wird, wird mittlerweile immer mehr der Weg des "Sale and Lease Back" gewählt. Hierbei wird die betreffende Immobilie an einen Fonds verkauft (REIT) und zurückgemietet – so wie aktuell der einzige am Markt vertretene REIT Innovative Industrial Properties (IIPR).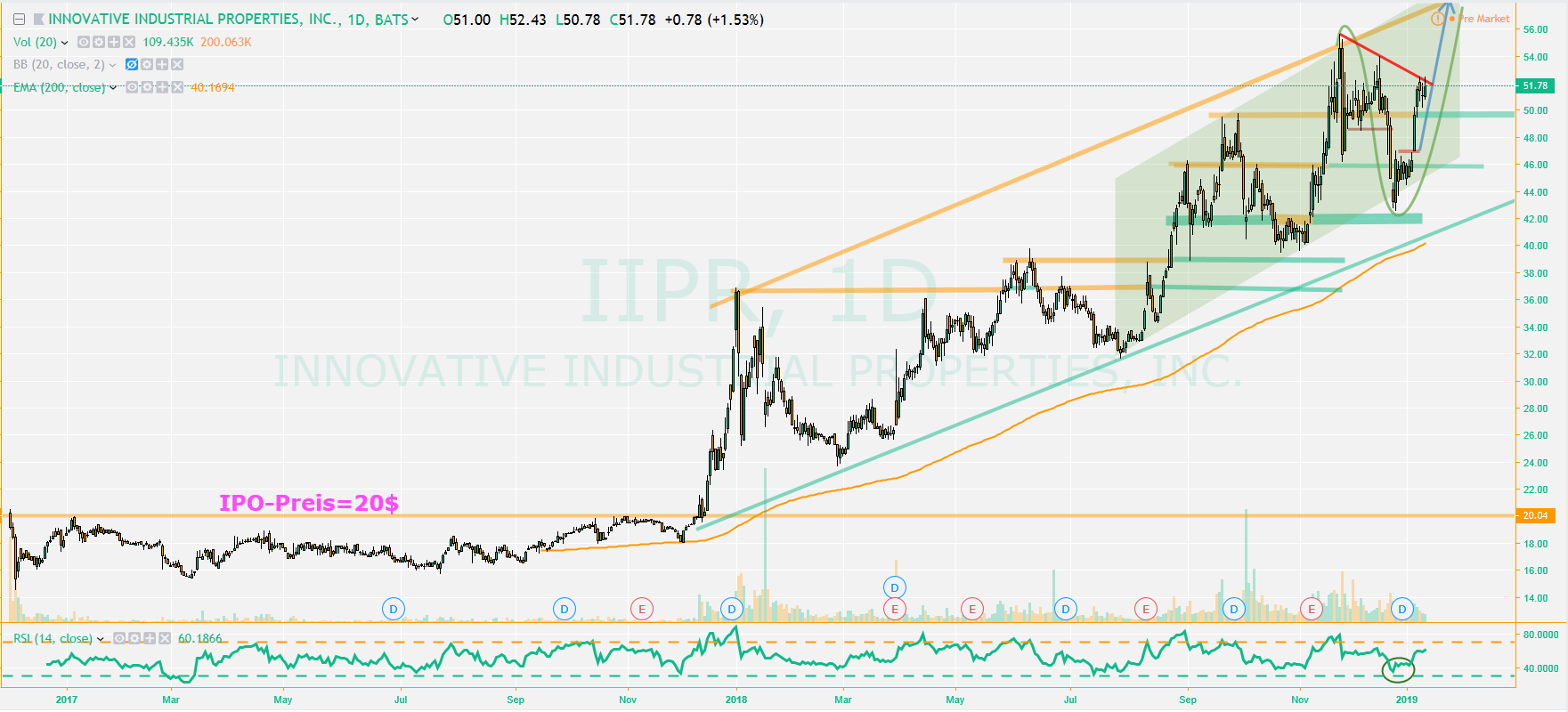 Nun scheint es bald einen neuen REIT am Markt zu geben: Der Treehouse REIT (www.treehousereit.com) gab diese Woche bekannt, dass er bei einer Privatplatzierung 133,5 Mio. USD einsammeln konnte. Ds Geld möchte man dazu verwenden, die Immobilien von MedMen ins Portfolio mit aufzunehmen.
Treehouse ist eine Joint Venture zwischen MedMen und Stable Road Capital, einer Investmentfirma mit Sitz in Kalifornien, die über erfolgreiche Erfolge bei Immobilien und Cannabis verfügt. Treehouse wird von einem unabhängigen Vorstand geregelt. Treehouse hat einen Managementvertrag mit MedMen abgeschlossen, um den laufenden Betrieb zu überwachen, bis Treehouse an die Börse geht. Dann wird das Management internalisiert.
"This capital raise further proves the U.S. cannabis industry today is more investable than ever," said MedMen CEO and Co-founder Adam Bierman. "MedMen's relationship with Treehouse will allow us to unlock significant value for MedMen shareholders by spinning out our real estate holdings and deploying the proceeds into accretive growth opportunities for the Company."
Im Anschluss an die erste Transaktion hat Treehouse ein dreijähriges Recht auf ein Angebot für weitere MedMen-eigene Anlagen und Entwicklungsprojekte. Mit dem Start von Treehouse hat MedMen die Möglichkeit, zukünftige Investitionen im Zusammenhang mit seinen Einzelhandels- und Anbaulizenzen erheblich zu reduzieren.
Treehouse unterscheidet sich jedoch maßgeblich von IIPR insofern, dass sich Treehouse mehr auf den Einzelhandel als auf den Anbau fokussiert.
Über Treehouse:
Treehouse Real Estate Investment Trust, Inc. is a newly-organized, externally managed real estate investment company focused on the acquisition, ownership and management of specialized retail and industrial properties leased to experienced, state-licensed operators for their regulated adult-use and medical-use cannabis facilities. Treehouse will initially be externally managed and advised by an affiliate of MedMen Enterprises Inc. Visit http://www.treehousereit.com
Über Stable Road Capital:
Stable Road Capital is a family office employing an opportunistic approach to fundamental value investing. The Firm focuses on acquiring and investing in high quality operating businesses, assets and funds. While the Firm is generally industry agnostic, Stable Road Capital has dedicated considerable resources to advising and investing in the cannabis sector, focusing on large vertically integrated players, individual brands, and industry specific private equity funds. Visit https://www.stableroadcapital.com/
warte gespannt darauf dass die an die børse gehen. treehouse hat gegenüber IIPR den nachteil, vielleicht vorteil dass sie eng mit medmen liiert sind, das kan einige kunden/konkurrenten zurückhalten
Habe mit der Suchfunktion nix über Crop Infrastructure gefunden.
Wenn IIPR ein REIT ist ist CROP dann auch einer? Und wenn nein warum haben ja gleiches Geschäftsfeld.
Kann man solche REIT Companys bei den BIOS einordnen??
Bin bei CROP drinnen heute guten sprung gemacht. Damals auf deutsche Presse verlassen.
Grundsätzlich bin ich gegegnüber REITS äußerst skeptisch, ich möchte auch nicht in Immobilien oder Peripherie investieren. Was hier scheinbar verlockt sind die hohen Dividenden.
Themenstarter
5. Februar 2019 07:09
ja die haben ein ähnliches Geschäftsmodell wie ein reit. cannaroyalty ist auch auf diesem Feld neben iipr unterwegs.   bei den Bios wäre sie falsch...ich könnte eine neue Kategorie Reit machen...?
Wenn treehouse an den Start geht warum nicht. Würdest du CROP als REIT durchgehen lassen?
Themenstarter
18. März 2019 17:22