2 neue Horizons-ETFs: Gehebelt und gegen den Markt
Themenstarter
22. Mai 2019 22:12
Wie bereits im Juni 2018 hier im Blog im Beitrag "Gehebelte Cannabis-ETFs – sogar gegen den Markt!" angekündigt, sind nun 2 neue ETFs aus dem Hause Horizons an der TSX handelbar:
Die Ticker lauten HMJU & HMJI. Die Verwaltungsgebühr für HMJU und HMJI beträgt 1,45% zuzüglich Umsatzsteuer. Die neuen ETFs bieten dem Anleger die Möglichkeit mit einem 2-fachen Hebel im Markt unterwegs zu sein bzw. gegen den Markt zu spekulieren bzw. ein Absicherungsinstrument zur Verfügung zu haben. Das Underlying auf das die ETFs jeweils referenzieren ist der North American MOC Marijuana Index. Dieser Index bildet die tägliche Wertentwicklung eines Korbs nordamerikanischer börsennotierter Unternehmen mit bedeutenden Geschäftsaktivitäten in der Marihuana-Industrie ab. Die aktuelle Zusammensetzung ist wie folgt dargestellt: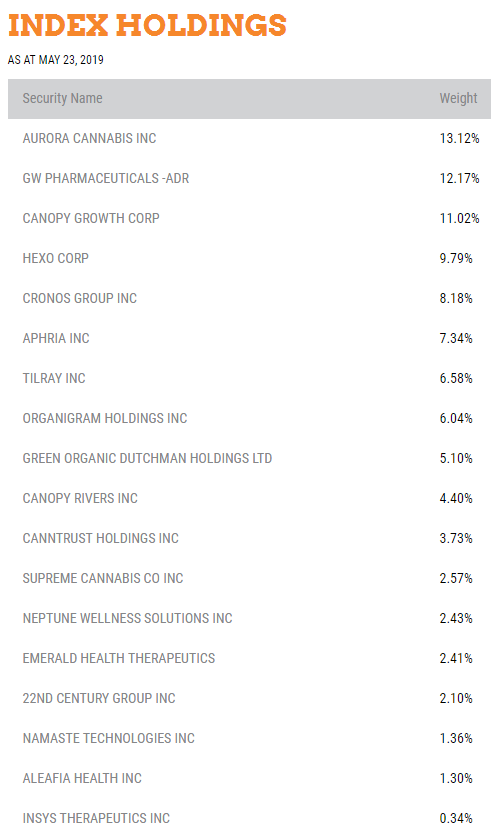 "Horizons ETFs has established a leadership position in the Marijuana investing space, and were the first ETF provider in the world to launch a Marijuana-focused ETF, with the Horizons Marijuana Life Sciences Index ETF (HMMJ). HMJU and HMJI will be the fourth and fifth ETFs we offer that provide exposure to Marijuana equities." so Steve Hawkins, Präsident und CEO bei Horizons ETFs. "HMJU and HMJI are higher-risk ETFs that will give Canadian marijuana equity investors the opportunity to potentially generate returns in both positive and negative markets in the Marijuana sector."
Der HMJU und HMJI unterscheiden sich von den meisten anderen ETFs insofern, dass sie als sog. "BetaPro"-Fonds darauf ausgelegt sind, tägliche Anlageergebnisse zu erzielen, indem sie Hebeleffekte und Short-Positionen einsetzen, die über die vorgeschriebenen Grenzen für konventionelle Investmentfonds hinausgehen. Aufgrund dieser Merkmale sind sie riskanter als Fonds, die diese Mechanismen nicht anwenden, und eignen sich daher eher nur für erfahrene bzw. risikoliebende Anleger.
"Since we introduced HMMJ in 2017, thousands of Canadian investors have approached us and expressed their wish for leveraged and inverse exposure to the Canadian cannabis sector," so Hawkins. "Until now, generating leveraged and inverse exposure to marijuana equities has been difficult and typically requires using a margin account and securities lending facilities. HMJU and HMJI streamline this process and allow investors to get leverage and inverse access through diversified ETF exposure to the sector, rather than taking on individual stock risk or having to using a margin account."
Man sollte sich bei einem Investment bewusst sein, dass der HMJI zwar das generell unbegrenzte Risiko von Leerverkäufen reduziert, da angelaufene Verluste den Hauptinvestitionsbetrag nicht überschreiten dürfen; die Fremdkapitalkosten für Leerverkäufe werden dadurch jedoch nicht eliminiert. Die Wertpapierleihkosten für das Leerverkaufen von Cannabisaaktien werden sich in der Wertentwicklung von HMJI widerspiegeln. Obwohl die Absicherungskosten von HMJI monatlich unter Berücksichtigung der aktuellen Marktbedingungen bewertet werden, wird erwartet, dass diese Absicherungskosten die Rendite von HMJI erheblich verringern und die Fähigkeit des ETF, seine Anlageziele zu erreichen, erheblich beeinträchtigen können. Derzeit gehen die Verantwortlichen von Horizons davon aus, dass die Absicherungskosten des HMJI, basierend auf den aktuellen Marktbedingungen, zwischen 15% und 35% pro Jahr liegen werden. Horizons ETFs veröffentlicht am jeweiligen Monatsanfang unter www.HorizonsETFs.com für jeden Monat einen aktualisierten Fixbetrag für die Absicherung.
Der Basiswertindex wird wie der HMMJ von der Solactive AG berechnet und veröffentlicht. Die Richtlinien für den Index sowie die erste Liste der Bestandteile finden Sie auf der Website der Solactive AG hier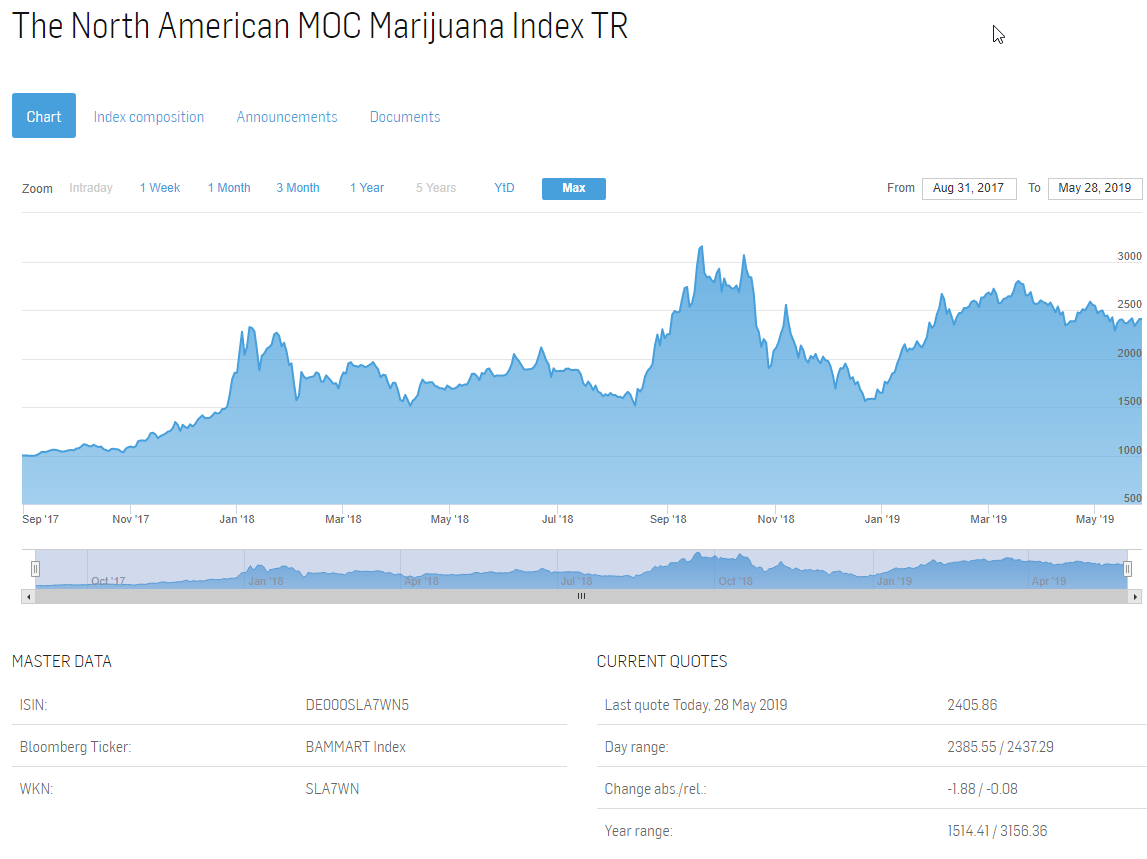 Themenstarter
31. Mai 2019 21:42
MIt dem Instrument im Gepäck könnte man ja fast wieder das Trading-Tagebuch reaktivieren 😉
oh ja!!!! Tradingtagebuch, das hätte mal wieder was. Haste letztes mal auch im Bärenmarkt gestartet.