Neue Cannabis-ETFs haben es schwer….
Themenstarter
22. April 2018 22:19
Vor etwas mehr als einem Jahr ging der weltweit erste Cannabis-ETF an den Start – jeder kennt ihn, den Horizons Marijuana Life Sciences Index ETF  (HMMJ). Heute verfügt das Unternehmen über ein Vermögen von rund 700 Millionen Dollar und kann seit Auflegung immer noch eine stattliche Rendite von knapp 75% aufweisen, obwohl der Markt nach dem Hype letzten Jahres seit Anfang 2018 in eine Konsolidierungsphase überging. Zudem verfügt er immer noch über stetige Fondszuflüsse.
Im Februar wurden drei weitere Fonds aufgelegt: der Horizons Emerging Marijuana Growers Index ETF, der sich auf Small Caps konzentriert; und zwei aktiv gemanagte Fonds, der Evolve Marijuana ETF und der Marijuana Opportunities Fund von Redwood Asset Management.
Alle drei haben Schwierigkeiten, ihre Gesamtvermögen zu erhöhen. Der Start der 3 Fonds war vom Timing her zugegebenermaßen suboptimal, da sie inmitten des Abverkaufs ihr Börsendebut feierten. Aber auch für den HMMJ war es ursprünglich ein steiniger Start. Zwei Monate nach seinem Debüt verlor er unmittelbar 20 Prozent seines Emissionspreises - die Gesamtaktiva sanken jedoch nie unter 100 Millionen Dollar.
Darüber hinaus ist HMMJ weiterhin sehr beliebt geblieben, betrachtet man den Geldzufluss des Fonds. Trotz einer gewissen Schwäche des Sektors im Jahr 2018 hat der HMMJ in diesem Jahr Nettozuflüsse i.H.v. 307 Millionen Dollar verzeichnen können.  Seit ihrer Auflegung wiesen Redwood und Evolve Nettozuflüsse von jeweils 4 Mio. USD respektive  2,1 Mio. USD aus.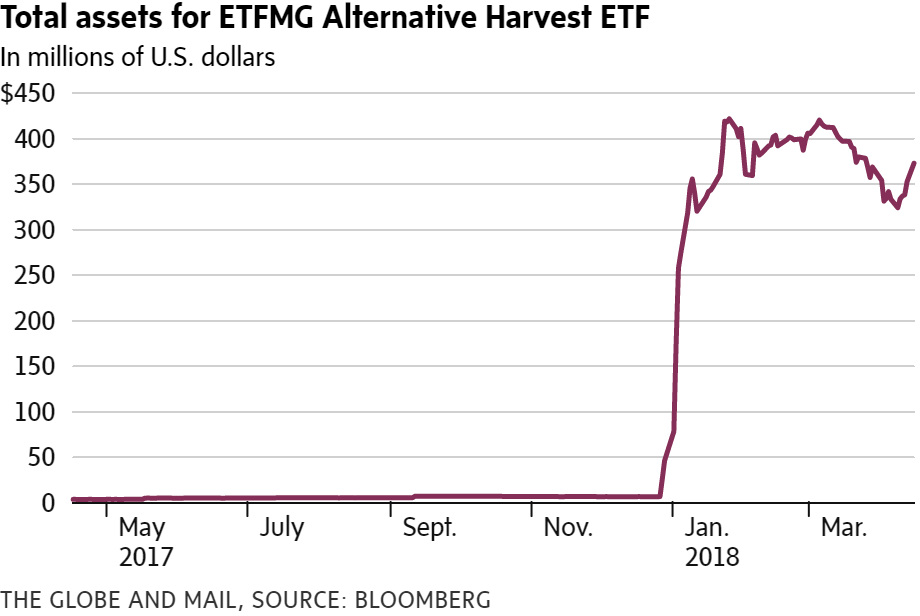 Der in New York notierte ETFMG Alternative Harvest ETF hat Ende 2017 sein Geschäftsfeld von Immobilien auf Cannabis gewechselt. Das Portfolio unterschied sich nicht wesentlich von den o.g. bereits bestehenden Fonds, er ist ebenfalls in kanadischen LPs übergewichtet.
Ausserdem kann es sein, dass der ETFMG bald schließen muss, sollte er keinen neuen Indexsponsor finden. Weitere Infos: ETFMG Alternative Harvest ETF bereits vor dem Aus?
Dass das Marktumfeld aus regulatorischer Sicht nicht einfach ist, musste ich auch vom Cannabis Strategies Fund erfahren.  Vor längerer Zeit stieß ich auf dieses Fonds und habe ihn seither auf meiner Watchlist. Es tut sich aber einfach nichts! Deshalb schrieb ich den Fondsverwalter direkt an und bekam folgende enttäuschende Antwort:
Betreff: RE: Question to your Cannabis Fund
"Thanks for your interest Thomas. We are still working on our distribution strategy. Our intention is to list on Fundserv. The biggest challenge is that the Canadian banks are not comfortable selling a Cannabis Fund, so we are looking at alternatives to raising the initial capital for the Fund. Once we have that settled, I will get back to you. Thanks again for your interest. Andrew Cook"
Scheint also immer noch alles höchstkompliziert zu sein.....